Join us in promoting inclusion and awareness for the achievements of individuals with Down syndrome as we celebrate our Buddy Walk's 27th Anniversary on 9/24/2023.
The Capital Region's Buddy Walk is a short 1-mile stroll around the pond in Schenectady's Central Park. Along with the walk, the day is filled with resource information, entertainment, music, games, crafts, and snacks.
Our exciting online silent auction is now open! Click to bid.
We are proud to dedicate this year's Buddy Walk to the memory of Chris Miller, longtime participant and champion of the Capital Region Buddy Walk. Learn more about Chris.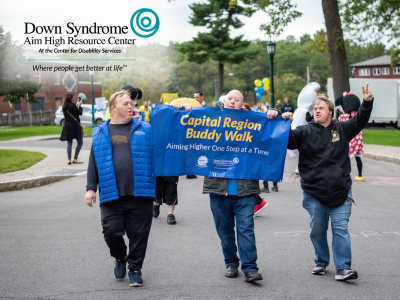 For more information: https://www.cfdsny.org/ or email dsahrc@cfdsny.org.
Thank you to our sponsors!
Shirts ordered after September 3rd will arrive after the walk.
Funds raised at the Buddy Walk have a direct impact on individuals with Down syndrome and their families in our communities at any stage of life. Here are just a few highlights of the accomplishments provided by the Down Syndrome Aim High Resource Center from the past year:
96 Parent Education, Linkage, Outreach & Referral Consultations

70 Professional Education, Linkage, Outreach & Referral Consultations

120 Modified Curricular Units to Capital Region school districts to support inclusion of students with Down syndrome in general education classes
Education, Enrichment & Empowerment to 20 young adults and adults through DSAHRC's 321 Club

In-person visits and ongoing support to Expectant and New Parents at Capital Region hospitals through DSAHRC's Welcome Baby Program

Publish periodic DSAHRC E-newsletter to over 1,400 subscribers

Donate:
Find a Participant or Team:
Thank you for helping us reach our goal!